Details


Larger Image
Experiential Activities for Teaching Career Counseling Classes and for Facilitating Career Groups
Volume III
Author/Editor: Dr. Tracy M. Lara, Dr. Mark Pope, Dr. Carole W. Minor
Year:
2011
Editors: Dr. Tracy M. Lara, Dr. Mark Pope, Dr. Carole W. Minor
Experiential Activities for Teaching Career Counseling Classes and for Facilitating Career Groups - Volume III is the latest collaboration of the authors of Volume I and II – Dr. Mark Pope, and Dr. Carole W. Minor – and now including Dr. Tracy M. Lara. These authors have over 80 combined years of experience training new career counselors, school counselors, career development facilitators, and other career development professionals.
This third volume of their best-seller has all new tried-and-true activities designed to present career development concepts in interesting and exciting ways. Developed by many of the field's leading practitioners for use in both classroom and career group settings, these hands-on activities are organized in nine sections: self knowledge and career decisions; career development theory; career assessments; occupational information; job search and workplace issues; designing and delivering career programs and services; diversity, equity, and inclusion in career development; technology and media in career counseling; and comprehensive and culminating activities. Each experiential activity is described so that counselors, teachers, and group leaders will know instantly how it can be implemented and adapted to meet the needs of students or clients. 2011
Activity 64 - The RIASEC Game PPT Files
Read a review of this resource in the Career Convergence web magazine.
Keywords:
Category
Career Information Resources/Curriculum/Activities
Career Planning and Job Seeking Resources
Work Setting
K-12
Post-secondary
Non-profit
Government
Business and Industry
Independent/Private Practice
Counseling Education & Research
Stock#: 918 Mfr#: ISBN: 978-1-885333-33-9
Featured Product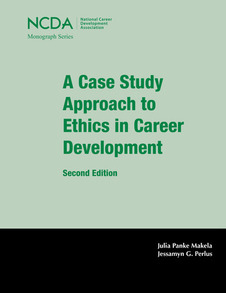 A Case Study Approach to Ethics in Career Development, 2nd Edition (Makela & Perlus, 2017)

The second edition tackles some of the most vexing questions that career development professionals encounter today. Using a case study design, it offers a hands-on experience with ethical terminology, resources, and issues. Each dilemma presented includes detailed, guided discussion of key issues and recommendations, with direct connections to the 2015 NCDA Code of Ethics. As a result, the often intimidating topics of ethics and professional standards are made accessible to career development professionals at all levels - beginners-in-training who are navigating difficult situations for the first time, seasoned professionals who are expanding their learning through shared experiences with colleagues, and everyone-in-between. This second edition presents current literature, eight new cases and "serves as an essential resource for practicing career professionals and students in professional preparation programs."
Only $20 for the print or ebook (PDF).
Sale ends September 30, 2023. Shipping/handling not included.
Shop the Career Resource Store now.