Details


Larger Image
The Role of Career Information and Technological Resources in Career Planning
Career Knowledge Series
Publisher:
NCDA
Year:
2015
This topic covers a general overview of the complex area of career information and technological resources and the challenge presented in using these resources. The topic further explores the role of the career professional in using information and technological resources in the career process, ways to identify and describe multiple types and sources of information, and identify elements required for providing online career services. In addition, the topic investigates using informational and technological resources to help clients with career issues and evaluating the technological readiness of the professional and clients.
This is one part of a multi-book series which includes 8 titles focused on key career development competencies. Each book is between 30 and 80 pages and can be purchased independently or as a set. Continue shopping to view each one in the series or the whole Career Knowledge Series.
Read more about the "Career Knowledge Series" in NCDA's web magazine, Career Convergence.
Stock#: 803.6 Mfr#: 978-1-885333-44-5
Featured Product
Group Career Counseling: Practices and Principles, 2nd Edition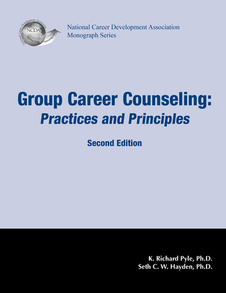 This monograph provides a comprehensive resource on Group Career Counseling (GCC). It is appropriate for use by counselors, career professionals and facilitators, and in some cases para-professionals. This second edition provides a fuller review of the literature and of the relationship of GCC to counseling and career development theories. (Pyle & Hayden, 2015)
On Sale for $20.00 - both print and ebook (PDF) available!
Shop the NCDA Career Resource Store now! Sale ends December 31, 2021 EXTENDED until January 31, 2022. Shipping/Handling charges still apply.