Details


Larger Image
Job Seeking & Employability
Career Knowledge Series
Publisher:
NCDA
Year:
2015
This topic provides a comprehensive resource of assisting or guiding clients in searching for employment. Specific topics include: importance of networking; job search process; effective job search tools; professional presentation through resume, media, email communications, and cover letters; interviewing process; use of social media and personal branding; and the emotional impacts of job seeking. Finally, the topic provides a brief section on workplace-affiliation and job-retention skills.
This is one part of a multi-book series which includes 8 titles focused on key career development competencies. Each book is between 30 and 80 pages and can be purchased independently or as a set. Continue shopping to view each one in the series or the whole Career Knowledge Series.
Read more about the "Career Knowledge Series" in NCDA's web magazine, Career Convergence.
Stock#: 803.7 Mfr#: 978-1-885333-45-2
Featured Product
Group Career Counseling: Practices and Principles, 2nd Edition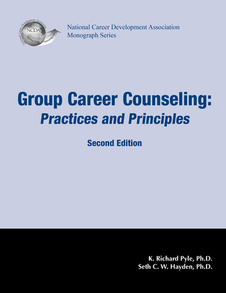 This monograph provides a comprehensive resource on Group Career Counseling (GCC). It is appropriate for use by counselors, career professionals and facilitators, and in some cases para-professionals. This second edition provides a fuller review of the literature and of the relationship of GCC to counseling and career development theories. (Pyle & Hayden, 2015)
On Sale for $20.00 - both print and ebook (PDF) available!
Shop the NCDA Career Resource Store now! Sale ends December 31, 2021 EXTENDED until January 31, 2022. Shipping/Handling charges still apply.