Details


Larger Image
ONLINE ACCESS, School Career Development Advisor Training Manual
SCDA Manual
Author/Editor: Veronica Tate, Rebecca Dedmond, Jennifer Stevens, Jennifer Landis-Santos
Year:
2017
Individual Orders ONLY. Order must be made by user to set up online access. Allow 3 days for processing order. A link to the individual email address to secured site will be given by email/receipt for online access. Online access is for 6 months from purchase date. For assistance, please contact, nscrimsher@ncda.org.
The School Career Development Advisor (SCDA) Training is intended for providers who work with youth in many settings and help prepare students for meaningful work and managing their careers. These providers work with other staff to coordinate the design, implementation, and monitoring of school and community-based efforts to improve the chances of students entering the job market with skills, knowledge, and credentials to be competitive. A student manual is required for each participant in this training program.
Stock#: 231E
Featured Product
Group Career Counseling: Practices and Principles, 2nd Edition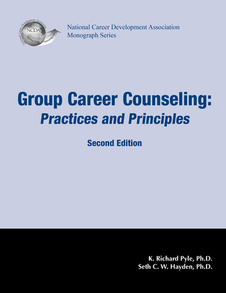 This monograph provides a comprehensive resource on Group Career Counseling (GCC). It is appropriate for use by counselors, career professionals and facilitators, and in some cases para-professionals. This second edition provides a fuller review of the literature and of the relationship of GCC to counseling and career development theories. (Pyle & Hayden, 2015)
On Sale for $20.00 - both print and ebook (PDF) available!
Shop the NCDA Career Resource Store now! Sale ends December 31, 2021 EXTENDED until January 31, 2022. Shipping/Handling charges still apply.