Details


Larger Image
E-BOOK- Designing and Implementing Career Programs: A Handbook for Effective Practice
Author/Editor: James P. Sampson, Jr. PhD
Year:
2008
The purpose of this handbook is to stimulate discussion among senior managers, managers, practitioners, administrative staff, and stakeholders about the cost-effective design and delivery of career resources, service-delivery tools, and services for adolescents and adults in career centers and schools who have varying needs for assistance in making occupational, educational, training, and employment decisions. Monograph by James P. Sampson, Jr., Ph.D.
Topics include:
Career Services
Self-help, brief staff-assisted, individual case-managed, and distance delivery
Seven-step service delivery sequence
Four-step model for promoting effective use of assessment and information resources
Selecting, sequencing, and pacing the use of career resources
Service-Delivery Tools
Signage, maps, resource guides, diagnostic assessment, and individual learning plans
Career Resources
Career resource rooms, Internet Web sites, and information handouts
Program Evaluation Strategies
Five-step Model for Providing Accountability Data
Eight-step Implementation Model
Making Implementation a Success
Strategies for Adapting the Models Presented in the Handbook
Resources Available in the Appendices and Accompanying CD-ROM include:
Glossary of key terms
Staff training handout, "Key Elements in Designing and Implementing Career Resources and Services"
Template and example of a resource guide
Identifying potential career resources and services for resource guides
Resource guide worksheet
Individual learning plan
Example of a completed individual learning plan
Example of an information handout
Implementation checklist
Worksheet for managing implementation
PowerPoint presentations for staff training on the following topics are included: career services, service-delivery tools, career resources, evaluation and accountability, eight-step implementation model, and implementation success.
To view these PowerPoint presentations, visit the companion article in Career Convergence.
View Chapter 1 (PDF)
Designing and Implementing Career Programs - Table of Contents (PDF)
A book review is available online in NCDA's Career Convergence web magazine.
Keywords:
Categories:
Assessment
Career Information Resources/Curriculum/Activities
Coaching/Consultation/Performance Improvement
Supervision
Ethical/Legal Issues
Research/Evaluation
Technology
Stock#: 952.5 Mfr#: ISBN: 978-1-885333-21-6
Featured Product
Group Career Counseling: Practices and Principles, 2nd Edition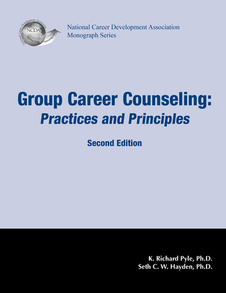 This monograph provides a comprehensive resource on Group Career Counseling (GCC). It is appropriate for use by counselors, career professionals and facilitators, and in some cases para-professionals. This second edition provides a fuller review of the literature and of the relationship of GCC to counseling and career development theories. (Pyle & Hayden, 2015)
On Sale for $20.00 - both print and ebook (PDF) available!
Shop the NCDA Career Resource Store now! Sale ends December 31, 2021 EXTENDED until January 31, 2022. Shipping/Handling charges still apply.