Details


Larger Image
E-BOOK - A Case Study Approach to Ethics in Career Development, 2nd Edition
Author/Editor: Julia Panke Makela, Jessamyn G. Perlus
Year:
2017
The second edition tackles some of the most vexing questions that career development professionals encounter today. Using a case study design, it offers a hands-on experience with ethical terminology, resources, and issues. Each dilemma presented includes detailed, guided discussion of key issues and recommendations, with direct connections to the 2015 NCDA Code of Ethics. As a result, the often intimidating topics of ethics and professional standards are made accessible to career development professionals at all levels - beginners-in-training who are navigating difficult situations for the first time, seasoned professionals who are expanding their learning through shared experiences with colleagues, and everyone-in-between. This second edition (the first edition was authored by this first author) presents current literature, eight new cases and "serves as an essential resource for practicing career professionals and students in professional preparation programs."
Authors: Julia Panke Makela and Jessamyn G. Perlus
Key Categories:
Supervision
Ethical/Legal Issues
Work Settings:
K-12 and Parents
Post Secondary
Non-Profit
Governmental
Business and Industry, and/or
Independent/Private Practice
Read the review in Career Convergence.
ISBN: 978-1-885333-55-1
A Case Study Approach to Ethics is also available in print.

Stock#: 903.5 Mfr#: 903
Publications
Featured Product
Group Career Counseling: Practices and Principles, 2nd Edition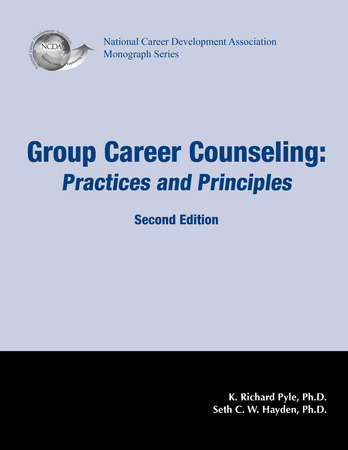 This monograph provides a comprehensive resource on Group Career Counseling (GCC). It is appropriate for use by counselors, career professionals and facilitators, and in some cases para-professionals. This second edition provides a fuller review of the literature and of the relationship of GCC to counseling and career development theories. (Pyle & Hayden, 2015)
On Sale for $20.00 - both print and ebook (PDF) available!
Shop the NCDA Career Resource Store now! Sale ends January 31, 2021. Shipping/Handling charges still apply.
Monthly Specials
---
Read More!
Many of our products include links to Book Reviews or Excerpts, which are also archived in our Career Convergence web magazine.