Details


Larger Image
ONLINE COMPANION: A Comprehensive Guide to Career Assessment - Annual Subscription
Author/Editor: Kevin B. Stoltz and Susan R. Barclay
Publisher:
NCDA
Year:
2019
Allow 3 days for processing order. A link to the secured site will be given by email/receipt for access.
NCDA is proud to release a brand new online complement to the print book, A Comprehensive Guide to Career Assessment (7th ed). This website is a dynamic database of assessment reviews, which will offer new reviews regularly. Each review is supported by relevant literature sources and includes current test descriptions, quality markers, and ways to contact and access further information from assessment publishers or developers.
Over 20 reviews are online and cover traditional standardized assessment (quantitative), and semi-structured or interview processes (qualitative), as well as open source career assessments and a research category, to keep abreast of emerging concepts and constructs.
In line with the comprehensive goal of the book and online companion, the website includes 14 new chapters offering perspectives on career assessment from diverse cultures and settings: Asia, Australia, Canada, Europe, the Middle East, and South Africa; K-12 schools; higher education; business and workforce development; private practice; research and evaluation; public policy and advocacy; and the integration of career and mental health counseling.

This subscription serves as a companion to the foundational material released in the print book, although the two must be purchased separately. As seen in the print book, the foundational material on career assessment includes history, trends, test selection and administration, computerized assessment and multicultural issues. These six chapters appear only in the print book.
The intention of creating a worldwide resource for career assessment information and review is to benefit NCDA members and the profession, including counselors, researchers, graduate students, career practitioners, business and workforce personnel, student development specialists, independent practice, and more.
The editors, Drs. Kevin B. Stoltz and Susan R. Barclay, developed this multi-faceted resource as the quintessential source for career assessment now and in the future. With the incorporation of technology into this publication, NCDA can offer ongoing reviews and updates that will build a current accounting and a historical record of career assessment worldwide. This is truly a comprehensive work that will live up to its name, the NCDA name, and to our profession.
---
Read the Review in Career Convergence or the Testimonials.
---
NCDA offers special 6-month pricing for graduate students and online previews for counselor educators. Contact Natalie Scrimsher at nscrimsher@ncda.org for special ordering and preview information.
Stock#: 915.5
Featured Product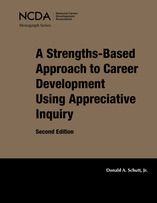 A Strengths-Based Approach to Career Development
Using Appreciative Inquiry, 2nd Edition
On Sale, February 1-29, 2023 for the discounted price of $20.00
Print book and ebook (PDF); shipping and handling charges not included in the sale price.
The Strengths-Based Approach is a way of seeing the world as positive and focuses on building upon strengths rather than on fixing deficits. The second edition monograph details the approach and includes activities and a participant guide to move the Strengths-Based Approach to career development into practice. (Schutt, 2018)