02/25/2021
NEW BOOK! Gaining Cultural Competence in Career Counseling
NCDA is proud to publish Gaining Cultural Competence in Career Counseling (2nd edition), authored by Kathy M. Evans and Aubrey L. Sejuit.
In recent years, journals and other publications have attended to issues for diverse populations but a single resource is more useful to educators, practitioners and students who want to be more informed about diversity, equity, social justice and career counseling. Gaining Cultural Competence in Career Counseling, 2nd edition, goes into depth on each of these issues, as well as career theories, assessment, and ethics. The first four chapters focus on the foundational skills for effective counseling across cultures. The next five chapters integrate multicultural competences with specific career and social justice counseling competences. The significantly updated second edition includes a a new chapter on working with children and adolescents. Each chapter includes new exercises and questions for reflection, and case scenarios supplement the content.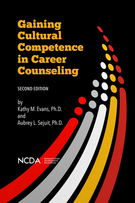 This book synthesizes the competencies recommended to career professionals by the National Career Development Association, the Association for Multicultural Counseling and Development, and the Counselors for Social Justice. It offers both theoretical and practical approaches to increase the likelihood that counselors-in-training and career professionals can successfully integrate career, multicultural, and social justice competences into their work with marginalized clients.
Why should you read Gaining Cultural Competence in Career Counseling?
Here is what others are saying:
Gaining Cultural Competence in Career Counseling is powerful in its direct focus on the essentialness of being culture-centered and social justice-grounded counselors. The framework for the book demonstrates that career counseling can only deliver on its promise when it integrates multicultural and social justice competencies. This is a book informed by theories, well-established research, models of relevance in a multicultural and global society, and pragmatic scenarios that counselors experience on a daily basis. I applaud the case scenarios and the complexity they introduce to create cognitive and emotional dissonance. Just when counselors think they are armed with all of the text-book knowledge and clinical training that will make them counseling exemplars, they find their awareness, knowledge, emotions, and skills as vulnerable. Discomfort is part of the learning process and with the guidelines provided in this text, counselors will better anticipate possible pitfalls and uncertainties that occur along the way. This book must be read cover-to-cover for its great depth and breath.
Patricia Arredondo, EdD, NCC
President, Arredondo Advisory Group
As a graduate student aspiring to become a career counselor, this book on cultural competence is extremely important. While studying, I have taken courses related to diversity and social justice, and then tried to connect them to the knowledge gained in career development courses. This book makes it easier to combine social justice with career development and serves as a guide for anyone in the field. The exercises and reflection questions throughout the book make this an effective book to be used for classes, at work with employees, or for personal use and skill building.
As someone passionate about college and career readiness for K-12 students, it is exciting to see the addition of the section on career counseling children and adolescents. This chapter will pave the way for more research on career counseling for students in this age range and allow those who work with K-12 students to be more culturally competent.
Delasia Rice, B.S., MSEd Candidate in Higher Education Administration
Chair, NCDA Graduate Student Committee
Gaining Cultural Competence in Career Counseling provides a timely and relevant approach to understanding diversity, social justice, inclusivity, privilege and the exemplary practices that all professional counselors must know and integrate into their practices. Through examples, stories, and first-hand accounts of what, when, and how, the authors provide a well-written, easy to understand, and relatable comprehensive guide to attaining cultural competency. Every chapter brought new emphasis and built on the previous, fostering a thirst for more!
Evans and Sejuit's book resonated with me not only as a career counselor and coach but as a leader. The authors creatively removed the cookie cutter approach to looking at people from one lens to emphasizing the importance of understanding the uniqueness in this world. It provides the in-depth competencies that can lead to changes in attitudes and assumptions so social injustices fade. A must read for every counselor, coach, educator, and student. A professionally written and inspirational read!
Sue E. Pressman, PhD, LPC, NCC, NCCC, CCC, GCDFI, BCC
President, American Counseling Association 2020-2021
The print book ships in mid-March. Looking for the ebook (PDF) - its available immediately!
---