07/25/2017
New Ethics Monograph Available
"A Case Study Approach to Ethics in Career Development" (Second Edition) is now available in the NCDA Career Resource Store in both print and ebook (pdf) formats.
This second edition tackles some of the most vexing questions that career development professionals encounter today. Using a case study design, it offers a hands-on experience with ethical terminology, resources, and issues. Each dilemma presented includes detailed, guided discussion of key issues and recommendations, with direct connections to the 2015 NCDA Code of Ethics. As a result, the often intimidating topics of ethics and professional standards are made accessible to career development professionals at all levels - beginners-in-training who are navigating difficult situations for the first time, seasoned professionals who are expanding their learning through shared experiences with colleagues, and everyone in-between.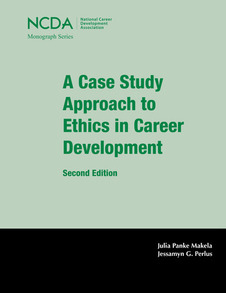 Authors Julia Panke Makela (who authored the first edition) and Jessamyn G. Perlus generated and then discussed in detail eight new cases in this 2017 edition.
NCDA is proud to offer this new monograph in the Career Resource Store.
Non-member Price $35.00
Member Price $25.00
---