11/01/2020
My Life with A Theory: John L. Holland's Autobiography and Theory of Careers
Book Review by Brian M. Montalvo
My Life with A Theory: John L. Holland's Autobiography and Theory of Careers, edited by Jack R. Rayman & Gary D. Gottfredson. 2020. NCDA. 366 pages.
This book is a masterclass on John Holland. This was the first thought that came to mind when I finished the book. Tyler Cowen, the famed economist, stated recently: "I would say if you're looking to read memoirs, don't necessarily follow other people's recommendations, focus on reading memoirs in areas you know something about" (Ferriss, 2020). As career practitioners and lifelong students of career development, what better place to start than with John Holland's autobiography? This book will help you discover Holland's work for the first time, reconnect with RIASEC theory in a new way, and provide you with an intimate personal view of John Holland. In this book review, I drew upon some of those insights, but I did not attempt to recreate the joy of reading this book entirely—my goal was to help readers understand why they MUST get a copy and talk about it.
As someone who has read the entire NCDA library, several elements make this book unique and a must-read. I believe it is unlike any other career book you have read or will ever read. First the editors are not only pillars of our field, but, as John Holland described them, "a special group of friends, practitioners, who helped me at crucial times with their ideas for research, theoretical revisions, and practical applications" (Rayman J., & Gottfredson G., p. 42). Both editors have contributed immensely to career development and they had unparalleled access to John Holland. They have assembled many of John Holland's artifacts, including his papers, letters, and presentations, and created an intimate and comprehensive manuscript.
John Holland's RIASEC theory is arguably one of (if not the most) researched career theories. According to Kennelly, Sargent, & Reardon (2018), there are 2,318 unique published references about his RIASEC theory and its applications in practice. Their literature review spanned six decades from 1953 – 2016). But for many of us, John Holland is mysterious and larger than life. A person we encountered through theory and readings, but not in person. We can recite his theory and six typologies, and we can (for fun) categorize friends and family members as "social, realistic, etc.," based on what we know about Holland's theory and our loved ones. When we think of Holland, we think of a hexagon, among many other things. We do not usually think of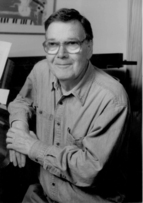 the man. The one that appears in the ubiquitous picture we see over and over again, the one that adorns the cover of this book, taken in 1997 by Bill Rettberg, a professional photographer who has spent more than five decades photographing weddings and portraits in the Baltimore area. The picture is of John Holland seated by his piano, left hand resting over his right. The image is effortless, unadorned, and to the point, but with a twinge of uneasiness—a metaphor for how John Holland wrote, presented his ideas, and approached his life. The editors and contributors offer a complete 360 view of John Holland's work and a 360 view of who he was. A person who continues to teach us lessons. He was restless in his pursuit, unwavering in his ideals, and layered with complexities upon complexities.
This book is exceptionally structured and highly readable. It contains chapters on the RIASEC typology, his journey to becoming a researcher, his infamous and laugh-out-loud funny editorial encounters, and his highs and lows. The book also contains John Holland's autobiography and vita published for the first time and many of his papers and presentations. This book is timeless with an abundance of utility---part memoir, part investigation into theory development, part manual on how to write, a tutorial on conducting sound research, and part self-help in exploring ways to get the most out of our talents.
Seven sections organize this book: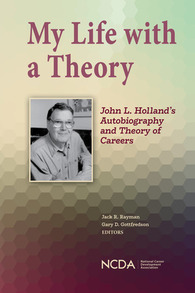 Section 1: Holland's Theory in His Own Words
Section 2: My Life with a Theory: An Autobiography
Section 3: Exhibits
Section 4: Perspectives on Holland's Contributions to Research and Practice
Section 5: Personal Recollections and Tributes
Section 6: Resources for Instruction: Photographs, Videos, PowerPoint Presentations
Section 7: Appendices
One of my favorite parts of this book is Section 3: Exhibits. Within this section, the reader is treated to profound insights into John Holland as it contains letters he wrote to editors, university presidents, and many others.
The book concludes with tributes to John Holland and his work. In the obituary to John Holland, Jack Rayman wrote, "there is much about John Holland, of which the public knew little. The first of them was that for most of his professional life, he was nearly blind. It is an irony of life that a person with such poor vision could be such a visionary." Rayman went on to say that John Holland was "…introverted, caring, and a warm individual despite having a biting sarcasm and a sometimes-dark sense of humor… when his tenure at the American College Testing Program was no longer satisfying, he famously proclaimed, 'Have hexagon, will travel.' (Rayman J., & Gottfredson G., p. 315).
In a recent email exchange with Dr. Bob Reardon (R. Reardon, personal communication, August 28, 2020), he mentioned, "…the thing about the book that sticks with me is the fun he had with friends and colleagues doing research. It was not about numbers but ideas and the theory. As he says, the book is about the subjective side of such work…" Dr. Reardon's keen observations will become apparent to any reader from the opening pages of My Life with Theory. My Life with Theory is a book we will pull off the shelf (or click the e-file) over and over again. It is a book with a perennial quality and does a remarkable job of bringing John Holland into the present tense while stamping him in our memories.
References
Ferriss, T. (2020, June 15). The Tim Ferriss show transcripts: Books I've loved — Maria Popova and Tyler Cowen (#436). The Tim Ferriss Show. https://tim.blog/2020/06/15/maria-popova-tyler-cowen-book-recommendations-transcript/
Kennelly, E., Sargent, A, & Reardon, R. (2018, February 23). RIASEC literature from 1953-2016: Bibliographic references to Holland's theory, research, and applications. (Technical Report No. 58). Center for the Study of Technology in Counseling and Career Development. http://purl.flvc.org/fsu/fd/FSU_libsubv1_scholarship_submission_1519670557_98eff51b
Rayman, J., & Gottfredson, G. (Eds.). (2020). My life with a theory: John L. Holland's autobiography and theory of careers. National Career Development Association.
---
This book is available in print or ebook versions in the NCDA Career Resource Store. For more on Holland's autobiography, see:
Our Lives with a Theory: Reflections on John Holland's New Autobiography - By Carley Peace and Deb Osborn (2021)
A Review of "Essays Celebrating John L. Holland's Autobiography and Contributions to Career Theory, Research, and Practice: A Festschrift" - By Taelar Bybee (2023)
---

Brian M. Montalvo, Ed.S., CCC, is currently the Sr. Director of the Career Center at Florida Atlantic University. From 2015 – 2017, Brian served on the Board of Directors for NCDA and as a Trustee for Higher Education Career Counselors and Specialists. In addition to working in career services, Brian has taught career development at both the graduate and undergraduate levels. He has published national and international articles and essays on multiple career development topics. Further, Brian regularly presents at professional conferences and webinars. Brian received a Leader of Leaders award. The Karl F. Ijams Humanitarian of the Year Award. The American Counseling Association (ACA) featured him in Counseling Today My Life, My Story. Recently, Brian was named an honoree for the 2020 South Florida Business & Wealth Up & Comer Award, which recognized Brian as one of South Florida's rising stars in education. Brian earned M.S./Ed.S. degrees in Counseling and Human Systems with a concentration in Career Counseling and a B.S. in Psychology, all from Florida State University. Brian is a National Certified Counselor (NCC) since 2006, a Certified Career Counselor (CCC) as of 2019, and was a Master Career Counselor (MCC) from 2009 – 2019. You can connect with Brian on LinkedIn, or send him an email at bmontal1@fau.edu
8 Comments
Disclaimer: The opinions expressed in the comments shown above are those of the individual comment authors and do not reflect the views or opinions of this organization.
---