12/01/2021
Intentionally Integrating Career Counseling Research, Practice, and Activities into Counseling Courses
By Jacqueline J. Peila-Shuster and Angie C. Smith
Each year, a group of counselor educators who teach graduate-level career counseling courses are selected to join the Counselor Educator Academy (CEA) just prior to the National Career Development Association's (NCDA) Global Conference. They meet for approximately one and one-half days to share best practices and learn tools they can use in their teaching. They hear from experts in the field, share their ideas, revise their syllabi, and commit to engaging in a project that can serve others who teach career counseling courses in counseling programs (CEA, n.d.).
The members of the 2017 NCDA CEA advocacy subgroup, which included the co-authors for this article, sought to develop materials to help counselor educators instill career topics throughout all counseling courses. We resolutely believe that one course is not enough to adequately cover career development and career counseling in a meaningful way. Furthermore, separating "the career course" from other counseling courses does a disservice to counseling students and their future clientele.
It has long been established by many voices in the career counseling and vocational psychology fields that career and personal issues cannot be separated (Blustein, 2006; Feller & Peila-Shuster, 2019; Fouad & Jackson, 2013; Krumboltz, 1993; Maree, 2016; Patton & McMahon, 2006; Savickas, 1993). Career issues that arise with both "personal" counselors and career counselors can include concerns around identity, meaning, purpose, life roles, lay-offs, transitions, adjustment issues, and more. Because of the dynamic relationship between personal and career counseling, there has been a long and consistent call for an integrative approach to the training of all counselors (Blustein, 2006; Krumboltz, 1993; Maree, 2016; Savickas, 1993). Thus, by offering how career topics can be infused into the other seven (of the eight) Core Areas in the Council for the Accreditation of Counseling and Related Educational Programs' (CACREP) standards, our CEA subgroup attempted to model ways to enhance the career development knowledge of all counseling students in connection with their experiences in other courses.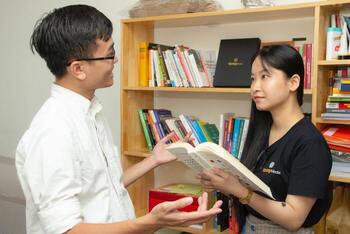 For each of these other seven CACREP core areas, the following resources were provided to help counselor educators infuse career concepts into their courses: textbook recommendations and research articles, class activities and/or assignments, and additional resources such as websites. Integrating Career Development and Counseling Content into the Core 2016 CACREP Areas is available at no charge on the Counselor Educators & Researchers page of the NCDA website (look under Members: Constituencies).
Following is a sampling of some of the resources provided in the core areas.
Professional Counseling Orientation and Ethical Practice: The National Association of Colleges and Employers (NACE) case studies prove to be highly relevant to students in class because they can consider them in terms of their own job search while also applying ethical principles presented both by NACE and NCDA.
Social and Cultural Diversity: Digital storytelling is the practice of everyday people who use digital tools to tell their story and can be used in a variety of ways. For example, students can find three videos that inspire them and submit a video reflection that describes how these videos reflect their approach to life and career in ways that honor their identities.
Human Growth and Development: Students can create a career lifeline describing work experiences starting with their earliest memory of paid or unpaid work to the present. One part of the activity includes examining the different developmental stages for each area on the career lifeline.
Counseling and Helping Relationships: We recommend students read Shallcross's 2013 article "Making Life Work" to help in their understanding of the importance of including client career considerations in other counseling settings since career counseling goes beyond finding jobs to the facilitation of personal well-being.
Group Counseling and Group Work: Students can be assigned the task of identifying a career-related theme or topic that would provide support or guidance for the population they will be serving and develop a career-related group curriculum.
Assessment and Testing: In addition to using the Mental Measurements Yearbook to review assessments, we recommend that all counseling students are introduced to NCDA's A Comprehensive Guide to Career Assessment as another resource for ethically reviewing and choosing assessments, but one that targets career assessments more specifically.
Research and Program Evaluation: Have students work through a program development vignette or case study based on career needs of students in the class. Consider using the NCDA's Designing and Implementing Career Services booklet as a guide.

It is our sincere desire that the resource developed by our CEA subgroup be of use to those teaching not only career counseling courses, but also to those teaching any counseling course. Just as many career counselor educators weave concepts from various CACREP standards into career courses, we advocate for career concepts to be infused into all counseling courses. The more that counseling students can grasp the complexities of their clients' lives, the better able they will be to serve them. For those of you that are counselor educators, we ask you to join us in our efforts and consider how you can continue to advocate for career development and career counseling with your colleagues.
Lastly, we would like to extend our gratitude to the NCDA Counselor Educator Academy for bringing our 2017 CEA group together. The CEA gave us community, a space to be heard, and a medium through which we can pay it forward.
2017 Counselor Educator Academy Advocacy Subgroup
Thomasina Lawson, PhD, LPC, NCC; Connect! Grow! Thrive! LLC
Lisa Littlefield, PhD, NCC, LPC; Hood College
Jackie Peila-Shuster, PhD, LPC, NCC; Colorado State University
Angie Smith, PhD, LCMHC-S, ACS, NCC; North Carolina State University
Stacy Van Horn, PhD, NCC; University of Central Florida
*Darrin Carr, PhD, HSPP; Indiana University-IUPUC (served as liaison between the two 2017 CEA sub-groups)
References
Blustein, D. L. (2006). The psychology of working: A new perspective for counseling, career development, and public policy. Lawrence Erlbaum Associates.
Feller, R., & Peila-Shuster, J. J. (2019). Career development plans: Designing a client's "what's next." In D. Capuzzi & M. D. Stauffer (Eds.), Career counseling: Foundations, perspectives, and applications (3rd ed.; pp. 211-237). Routledge.
Fouad, N. A., & Jackson, M. A. (2013). Vocational psychology: Strengths, weaknesses, threats, and opportunities. In W. B. Walsh, M. L. Savickas, & P. J. Hartung (Eds.), Handbook of vocational psychology: Theory, research, and practice (pp. 305–320). Routledge/Taylor & Francis Group.
Krumboltz, J. D. (1993), Integrating career and personal counseling. The Career Development Quarterly, 42(2), 143-148. https://doi.org/10.1002/j.2161-0045.1993.tb00427.x
Savickas, M. L. (1993). Career counseling in the post-modern era. Journal of Cognitive Psychotherapy, 7(3), 205-215. https://doi.org/10.1891/0889-8391.7.3.205
Maree, J.G. (2016), Career construction counseling with a mid-career black man. The Career Development Quarterly, 64(1). 20-34. https://doi.org/10.1002/cdq.12038
NCDA. (n.d.). The Counselor Educator Academy. https://www.ncda.org/aws/NCDA/pt/sp/counselor_academy
Patton, W., & McMahon, M. (2006). The systems theory framework of career development and counseling: Connecting theory and practice. International Journal for the Advancement of Counselling, 28(2), 153-166. https://doi.org/10.1007/s10447-005-9010-1
Shallcross, L. (2013, Jan. 1). Making life work. Counseling Today, 55(7), 34-41.
---
Jacqueline (Jackie) J. Peila-Shuster, Ph.D., LPC, NCC is an Associate Professor in the Counseling and Career Development graduate program at Colorado State University in Fort Collins, Colorado. She teaches courses in career development and counseling skills; supervises counseling internship and practicum; and serves as the program coordinator as well as the career counseling specialization coordinator. Her areas of teaching and research interest include career counseling and development across the lifespan, counselor education, career construction, and life design. jackie.peila-shuster@colostate.edu
Dr. Angie Smith embraces multiple roles as a partner, mother, Associate Teaching Professor, Program Coordinator for the on-campus and online College Counseling and Student Development program at North Carolina State University, Licensed Clinical Mental Health Counselor-Supervisor, Approved Clinical Supervisor, and National Certified Counselor. She has been teaching online and on-campus at NC State University for 12 years and has worked in corporate environments, academia in college counseling environments, and private practice settings. acsmith5@ncsu.edu
---