02/01/2018
Later Chapters with Pat Schwallie-Giddis
By Rich Feller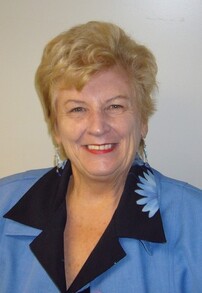 Pat Schwallie-Giddis, Ph.D, associate professor emeritus, George Washington University, speaker, author and NCDA and ACA leader has provided leadership in the field of school counseling and career development over the past four decades. Past-President of the National Career Development Association and former Florida Department of Education's State Director of Career Education, Pat began her career as one of Florida's first elementary school counselors, first in Naples and later in Tallahassee. She has been the recipient of numerous awards including the Distinguished Educator of the Year from the University of Wisconsin-Platteville and Florida State University. A Fellow in both NCDA and ACA, Pat has been honored by the United States Air Force and the American Vocational Association (ACTE) for her contributions to career guidance nationwide. Co-author of several books and publications on career education/career guidance she has presented throughout the United States and in several countries. She continues her service as a mentor to former students and emerging leaders in career counseling.
1.What helped you to gain your voice within the field?
It was clearly learning from and then being supported by several outstanding mentors. The first one was Garry Walz who supported me when I was the state director of Career Education in Florida, as he was so complimentary of my work at the state level. He was the person who then urged me to apply for my first position at the American Counseling Association. I would have never had the opportunities that I had later if I hadn't had his encouragement at that time in my professional life. I have been blessed with many mentors along the way, but I want to acknowledge Bob Reardon, Ed Herr, Norm Gysbers and Ken Hoyt. Each of them were willing to share their knowledge and provide their best advice when I sought them out. I will always be grateful to each one of them.
2. What authors, mentors, and experiences most shaped your career development work/practice?
I have to begin by exposing my own lack of counseling and career development when I finished high school and started college. I didn't know who to go to for advice and so I didn't go to anyone. I floundered and failed miserably, so I know how it feels not to have a direction or someone to advise and counsel me. In the long run that was probably the best thing that happened to me as I recall how desperate I felt and I vowed that I would do everything in my power to make sure that this didn't happen to other young people as they search for a future plan. Failing taught me a great deal, but I was one of the lucky ones because I got a second chance.
3. To what degree have you lived a life following what you professed about career development principles?
The number one principle that I have lived by is to never, never, never give up until you find what you are passionate about and then don't let anyone or anything deter you from your dream. To me this is what career development is all about - having your dream and then figuring out how to achieve that dream. I have studied many successful people and that ability to dream is what sets them apart from others. My question to my professional colleagues is "are we offering our students, clients, all those that we work with the opportunity to dream and then plan how to achieve that dream?"
4. What have you learned about/from fear, self-doubt, confidence and power?
I have always believed that love and acceptance are the most powerful tools we can use to help others. If you know that you are loved and are accepted you can overcome any fear or self-doubt. We in the helping profession should be providing that sense of love/caring and acceptance with everyone we work with. Confidence and power are the outcomes for someone who feels that they are loved and accepted. It is really so simple, but we often tend to make it so complex. On a personal note, I believe that I always knew that I was loved and so even though I went through some very difficult times, I somehow always knew that I would be O.K. and that eventually I would succeed.
5. In hindsight, what opportunities might you have taken?
I don't think that I ever turned down an opportunity to move forward and grow personally and/or professionally. I believe that you can see that if you look at my vita. I have changed jobs, taken on new projects and moved across the country if it looked like it was a great opportunity for me to grow. I think it may be because I am not afraid to fail. As a matter of fact, I have failed at several things, but I have also succeeded more times. I think that learning to fail has been a big part of my success.
6. What natural tensions have been a theme in your life?
I have pondered over this question a great deal. The motivation to move forward in my life comes from my deep desire to bring about positive change. As I look back over the many career changes in my life, the challenge has always been to see how I can make something better. If I believe that I can have a positive impact on a person's life, or a group of people or change a system through my actions, I am eager to take that on. Again, I must admit that I have not always succeeded, but I have had enough wins to give me the courage to keep trying. I have many examples that are too numerous to mention here.
7. What are your thoughts about what's ahead for you?
The opportunity to "give back" by helping others the way I have been helped drives me. I'm finding myself in much more of a care-giving role than I ever have before. Part of this is due to my being retired and now able to give of my time to others. This, by the way, is a very gratifying role for me. I am truly learning the virtue of patience!
8. What are your thoughts about what's ahead for you?
My biological clock is slowing down a bit and I am enjoying a chance to "smell the roses." I do enjoy photography and so I am seeing many things with "new eyes."
9. What advice do you have for your younger self? What's the most critical piece of advice you want to share with new professionals in our field?
The advice that I would give to my younger self would be to take risks, work hard, but don't be too hard on yourself. Allow yourself to fail, but don't let that stop you from trying new things. More than anything, love and accept yourself and others.
10. What one sentence would you use to describe the legacy that you hope to leave to the field?
Make a real effort to experience "joy" each day and try to bring a little "joy" in someone else's life too.
---
Rich Feller, PhD., is NCDA Past-President, Professor Emeritus of Counseling and Career Development and University Distinguished Teaching Scholar at Colorado State University, and recipient of the NCDA Eminent Lifetime Career Award. Contact: Rich.Feller@colostate.edu and www.richfeller.com
6 Comments
Disclaimer: The opinions expressed in the comments shown above are those of the individual comment authors and do not reflect the views or opinions of this organization.
---