10/18/2017
"The NCDA Credentialing Commission – Your Partner in Professional Development!"
Webinar, Wednesday, November 15th, 2017, National Career Development Day
The NCDA 2017 Webinar celebrating National Career Development Day: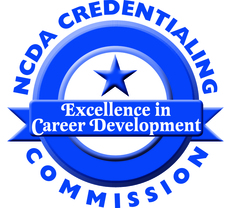 The NCDA Credentialing Commission – Your Partner in Professional Development!
Presented by:
Constance Jenkins Pritchard, John Long and Cynthia Marco Scanlon
Wednesday, November 15th, 2017
2:00-3:00pm (Central Time)
Members of the NCDA Credentialing Commission will present detailed information on the background, development, delivery and future goals for its five competency based certification programs for practitioners, educators and supervisors within the field of career development.
Read all three Presenters bios below
Registration
NCDA Member

Non-Member

Group Rate for 6 or more attendees

$35.00

$50.00

$200.00

1 hour CE Certificate included


1 hour CE Certificate included

A sign in/out sheet will be
provided for CE verification.
An additional of $5 is required
for each certificate requested.
Register online with a credit card or Purchase Order:
Click here to register online and receive access code
Or
Mail checks to NCDA, 305 N Beech Circle, Broken Arrow, OK 74012
Webinar invitation/access code will be emailed to you along with your receipt.
Registration questions? Contact: Alicia Cheek, acheek@ncda.org or 918.663.7060 or (866)FOR-NCDA
Presenter's Bios
Dr. Constance J. Pritchard is well known for her work in leadership, business consulting, and career development in many sectors, including nearly every industry sector. As President of The Pritchard Group, a training and consulting firm she founded in 1993, Dr. Pritchard presents seminars and workshops around the country on career, life management, and organization development topics. She has delivered career training and consulting training nationally and internationally. Dr. Pritchard is an NCDA Master Trainer, NCDA Fellow, and the Chair of NCDA's Credentialing Commission.
John Long is a professional coach, university instructor and career transition survivor (serving almost two decades in healthcare management roles). His private coaching practice has offices in Atlanta, GA and Jacksonville, FL. He specializes in career and life coaching, and is the author of the new book, Career Judo – The Martial Art for the Mindful Career. He also teaches undergraduate courses in education, student success and psychology. John has completed and education specialist (Ed.S) degree with a major in counseling and educational psychology and a master of science (M.S.) with a concentration in career development. His professional credentials include: Board Certified Coach, Certified Master of Career Services, Global Career Development Facilitator, Certified MBTI Practitioner, and qualified Strong Interest Inventory Practitioner. John's work with students and clients takes a strengths-based approach blended with elements of positive psychology and solution focused change. John currently serves on the NCDA Credentialing Commission and the NCDA Committee on Diversity Initiatives and Cultural Inclusion.
Dr. Cynthia Marco Scanlon has been passionately involved in the career development field for over 25 years in numerous capacities. She is currently the new Director of Credentialing and Special Programs for NCDA. She has been in leadership roles in NCDA for five years, serving as President 2015-16 and Secretary, and with her state organization, Ohio CDA. She has worked in higher education in career centers, and also as adjunct faculty teaching graduate level counseling courses. As a licensed clinical counselor, Cynthia is very proud to have earned the new credential CCC – Certified Career Counselor. She loves sharing her experiences as guest lecturer at regional and national workshops and conferences, and is always energized by learning from others in the field as she travels and collaborates with key constituents through NCDA! Because of her career expertise, Cynthia has been interviewed by many popular magazines and on-line venues such as Redbook and Cosmopolitan magazines, Thrillist, EverUp and NBC News. Dr. Scanlon received her Ph.D. at The University of Akron (UA) in Counselor Education and Supervision, and her Master's in Community Counseling from UA also. Her undergraduate degrees in psychology and sociology were completed at Ohio Northern University.
---