Career Developments Magazine
Career Developments, the NCDA magazine for members-only, is a themed publication offering articles that balance a broad vision with practical applications. Published four times per year, each issue offers a focused article on a select theme, a feature article on a prominent NCDA event, specific content for five departments, and four regular columns. The Publication Schedule and Editorial Team is listed below, or click here for complete Submission Guidelines. The Spring 2014 issue is focused on a growing trend in the workforce — Portfolio Careers. Unlike traditional employment, typically a part-time or full-time job with one employer, a portfolio career is a unique combination of opportunities with multiple employers that, in combination, make up part-time or full-time employment.
In this issue, our contributors address the pros and cons of this type of work, provide useful resources for working with clients interested in transitioning to this mode of employment, and offer insight into how to prepare students, career transitioners, and even career development professionals for a portfolio career.
---
Spring 2014 Focus: How to Help Your Clients Thrive in a Free Agent Economy
By: Nancy Collamer
Whether by choice or necessity, a surprisingly large percentage of Americans will soon be working in something other than a traditional full-time job. This article walks through the changing world of portfolio careers and the free agent economy, providing actionable strategies and resources for how career professionals can help their clients thrive within this growing career trend.
Members can read the full article in the magazine, then connect with Nancy on her website at www.mylifestylecareer.com or on Twitter @NancyCollamer. Non-members are invited to join NCDA to receive this benefit, and lots more!
---
Editors

Current Editor, as of September 1, 2013, Jenn Long
Founding Editor, 2007-2010, Melanie Reinersman
Second Editor, 2010-2013, Tim Lutenski
Publication Schedule
Issue Date
Focus
Feature
Deadline
Spring
March 2014
Portfolio Careers in the 21st Century
NCDA Global Career Development Conference, Boston
Dec 8, 2013
Summer
June 2014
Helping Students to Become College & Career Ready
Assisting Young People for College and Career Readiness: A Family Affair
Mar. 8, 2014
Fall
Sept 2014
Using Technology & Social Media
NCDA Award Winners & NCD Month
Jun 8, 2014
Winter Dec 2014
Servicing the Career Needs of Military Veterans
tba
Sept. 8, 2014
Advertising opportunities for future issues are available (see Ad Rate Card) by contacting Deneen Pennington at dpennington@ncda.org or call toll-free 1-866-FOR-NCDA.
Editorial Staff
| | |
| --- | --- |
| Jenn Long | Melissa Messer |
| Elizabeth Craig | School Counselor's Dept. |
| Mary Buzzetta | Constance Pritchard |
| Alicia Kirkpatrick | Keley Smith-Keller |
| Charles Lehman | Melanie Reinersman, NCDA Website Editor |
In this section

Career Developments Magazine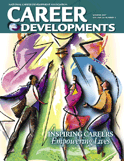 Career Developments is a themed publication offering articles that balance a broad vision with practical applications. All NCDA members receive this as a benefit of membership. Learn more about Career Developments.
SPRING 2014
TABLE OF CONTENTS
Focus
How to Help Your Clients Thrive in a Free Agent Economy
By Nancy Collamer

Feature
California Dreaming About the 2014 NCDA Career Development Conference
By Ann Herrmann and Lisa Severy

Columns
From the President:
Portfolio Careers in a Changing Workplace
By Lisa Severy
Thought Leader Insights: A Conversation with Daniel Pink
By Jenn Long
From the Executive Director:
An Expanding Portfolio Career: My Personal Journey
By Deneen Pennington
Special Feature
By Linda Faucheux, Jennifer Earls and Deepesh Faucheux
Ethics in a Nutshell
By Sarah Patterson-Mills
On the Web
By Melanie Reinersman
Past President Thoughts
By Michael Shahnasarian
Departments
Professional Counselors
Redefining Stability Through Portfolio Careers
By Marie Zimenoff

School Counselors
Preparing Students for Portfolio Careers and Multiple Career Changes
By Courtney J. Wilson

Graduate Students
Is a Portfolio Career Right for You? Evaluating, Planning, and Taking Action
By Brittany Melvin

Career Development Facilitator
Illegal to Legal: Strategies for Career Coaches Working with the Offender Population
By Alan Crawley and Fred Chandler