Career Developments Magazine
Career Developments, the NCDA magazine for members-only, is a themed publication offering articles that balance a broad vision with practical applications. Published four times per year, each issue offers a focused article on a select theme, a feature article on a prominent NCDA event, specific content for five departments, and four regular columns. The Publication Schedule and Editorial Team is listed below, or click here for complete Submission Guidelines.
VIEW A SAMPLE ARTICLE NOW: " Veterans And Career Development Challenges Opportunities For Professionals Ncda" (Miles & Lehman, Winter 2014) The Winter 2014 Issue is focused on the unique career needs of military veterans as they transition from active service to the civilian workforce. In this issue, our contributors help raise awareness of the specific needs of our veterans while providing resources for career counselors and specialists so that we can better service the needs of military veterans. In addition, the feature article is written by the co-chairs of the NCDA Veterans Committee and provides information about steps taken and future recommendations by NCDA and the Committee to prepare professionals to effectively meet veteran's needs.
Winter 2014 Focus - Overview:
Facing Transitions: Education and Employment Pathways for Military Veterans
By Shawn P. Conlon, Seth C.W. Hayden, and Ted Daywalt
As the number of military veterans joining the civilian workforce continues to rise, career counselors and specialists must be prepared to support the unique career development needs and challenges of this client group. The authors address new military initiatives that are being implemented across all branches to better support the transitions of military veterans from active service and how career professionals can help. In addition, the authors highlight the need for focused and thoughtful career services within institutions of higher education to meet the needs of veteran students as well as tips for partnering with veterans through a pro-active employment search.
Shawn P. Conlon, Ed.S., NCC (shawn.conlon@ gmail.com) heads the Marine Corps' Personal and Professional Development branch where he integrates a portfolio of services, including transition assistance, to assist Marines and their families to return to the communities and towns of America as the highest quality citizens they can be.
Seth C.W. Hayden, Ph.D., NCC (haydensc@wfu.edu) is an assistant professor of counseling at Wake Forest University. He has experience providing career and personal development services to active-duty military service members and veterans. His primary research interests are the career and mental health needs of our military population in addition to the connection between career and mental health concerns.
Ted Daywalt (TDaywalt@VetJobs.com) is the president of VetJobs (www.vetjobs.com), the Veterans of Foreign Wars internet job board. He is a retired Navy Captain with 28 years of service (7 active, 21 Reserve), and has 34 years industry experience. He earned degrees from Florida State University (BS, 1971), University of Southern California (MA, 1977) and Goizueta School of Business, Emory University (MBA, 1980).
Members can read the full article in the magazine.
Non-members are invited to join NCDA to receive this benefit, and lots more!
---
Editors

Current Editor, as of September 1, 2013, Jenn Long
Founding Editor, 2007-2010, Melanie Reinersman
Second Editor, 2010-2013, Tim Lutenski
Publication Schedule
Issue Date
Focus
Feature
*Deadline
Winter Dec 2014
Servicing the Career Needs of Military Veterans
Supporting Military Veterans:
NCDA Insights & Initiatives
Sept. 8, 2014
Spring 2015
International Issues in Career
Development: A Global Perspective
NCDA Global Career Development Conference
Dec. 8, 2014
Summer 2015
Navigating Career Uncertainty and Change
tba
Mar. 8, 2015
Fall 2015
Integrating Theory, Research & Practice in Career Development
NCDA Award Winners
June 8, 2015
Winter Dec 2015
Career Development in Business & Industry
tba
Sept 8, 2015
* This is the deadline for the final submission. Please contact an editor in advance of this deadline if you would like to contribute.
Advertising opportunities for future issues are available (see Ad Rate Card) by contacting Deneen Pennington at dpennington@ncda.org or call toll-free 1-866-FOR-NCDA.
Editorial Staff
| | |
| --- | --- |
| Jenn Long | Melissa Messer |
| Elizabeth Craig | School Counselor's Dept. |
| Mary Buzzetta | Constance Pritchard |
| Alicia Kirkpatrick | Keley Smith-Keller |
| Charles Lehman | Melanie Reinersman, NCDA Website Editor & Web Magazine Editor |
In this section

Career Developments Magazine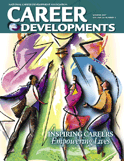 Career Developments is a themed publication offering articles that balance a broad vision with practical applications. All NCDA members receive this as a benefit of membership. Learn more about Career Developments.
winter 2014
TABLE OF CONTENTS
Focus
Facing Transitions: Education and Employment Pathways for Military Veterans
By Shawn P. Conlon, Seth C.W. Hayden, and Ted Daywalt

Feature
Veterans and Career Development: Challenges & Opportunities for Professionals & NCDA
By Robert A. Miles and Charles Lehman
Special Features
NCDA Awards Committee: Give Writing a Recommendation Letter a Try!
By Lauren Little and Susan Wade
Welcome 2014-2015 NCDA Board of Directors
NCDA Awards: Righting a Wrong in Honor of Niel Carey

Columns
From the President:

Helping Military Veterans Find Purpose and Connection Within the Civilian Workforce
By Mark Danaher
Thought Leader Insights
By Jenn Long
From the Executive Director:
A Call to Celebrate, Recognize, and Serve Military Veterans

By Deneen Pennington
Ethics in a Nutshell
By Veronica Mansour
On the Web
By Melanie Reinersman
The Marketplace
By Charles Lehman
Departments
Professional Counselors
Working with Veterans with Disabilities
By Vic Massaglia

School Counselors
Working with Veterans with Disabilities
By Vic Massaglia

Graduate Students
The Veterans Career Pathways Program: Maximizing Professional Interactions within the Community
By Brad Zivov

Career Development Facilitator
Veteran Resumes: Using the SOAR Model to Assist with Developing Accomplishment Statements
By Bret Anderson
REMEMBER: NCDA Elections have been removed from the Winter issue to start at the summer conference. Members should watch email for details.