Career Developments Magazine
Career Developments, the NCDA magazine for members-only, is a themed publication offering articles that balance a broad vision with practical applications. Published four times per year, each issue offers a focused article on a select theme, a feature article on a prominent NCDA event, specific content for five departments, and four regular columns. The Publication Schedule and Editorial Team is listed below, or click here for complete Submission Guidelines. VIEW A SAMPLE ARTICLE NOW: " Veterans And Career Development Challenges Opportunities For Professionals NCDA" (Miles & Lehman, Winter 2014)

Summer 2015 This issue explores tools, techniques and recommendations for diverse client populations who may face career transition and change. As we know, navigating career change can be very challenging, and career counselors and specialists should be well equipped to help clients face these challenges.
We are also pleased to highlight the NCDA Leadership Academy in this issue. The Leadership Academy was created with the ultimate goal of identifying and nurturing future groups of NCDA leaders.
Summer 2015 Focus Article:
Intentional Exploration: A Holistic Process to Navigate Career Change and Uncertainty
By Mark Franklin
Frameworks to guide effective, thoughtful and proactive career change and management are needed to counter reactive online job search methods and personality dependent advice-giving. According to Clifton (2011) there is a massive global shortage of 1.8 billion "good" jobs. He suggests that every individual is an economic engine and source of jobs energy. To win the coming jobs war, innovation, optimism, determination, creativity, hope and drive is needed for both job creators and job seekers.
Mark Franklin, M.Ed., CMF (mark@careercycles.com) leads OneLifeTools.com and CareerCycles, a career management social enterprise with 3500+ clients, co-authored Who You Are Matters! game, and received the Stu Conger Career Development Leadership Award.
See the Table of Contents, on the right sidebar.
Members can read the full article in the magazine.
Non-members are invited to join NCDA to receive this benefit, and lots more!
---
Editors

Current Editor, as of September 1, 2013, Jenn Long
Founding Editor, 2007-2010, Melanie Reinersman
Second Editor, 2010-2013, Tim Lutenski
Publication Schedule
| Issue Date | Focus | Feature | *Deadline |
| --- | --- | --- | --- |
| | | | |
| Summer 2015 | Navigating Career Uncertainty and Change | Leadership Academy | Mar. 8, 2015 |
| | | | |
| Fall 2015 | Integrating Theory, Research & Practice in Career Development | NCDA Award Winners | June 8, 2015 |
| | | | |
| Winter Dec 2015 | Career Development in Business & Industry | tba | Sept 8, 2015 |
| | | | |
| Spring March 2016 | Best Practices for Both New and Seasoned Professional | NCDA Global Career Development Conference | Dec 8, 2015 |
* This is the deadline for the final submission. Please contact an editor in advance of this deadline if you would like to contribute.
Advertising opportunities for future issues are available (see Ad Rate Card) by contacting Deneen Pennington at dpennington@ncda.org or call toll-free 1-866-FOR-NCDA.
Editorial Staff
| | |
| --- | --- |
| Jenn Long | Melissa Messer |
| Jessica Ayub | School Counselor's Dept. |
| Mary Buzzetta | Constance Pritchard |
| Heather Maietta | Keley Smith-Keller |
| Charles Lehman | Melanie Reinersman, NCDA Website Editor & Web Magazine Editor |
| Alicia Kirkpatrick Cheek | |
In this section

NCDA Long Term Plan
In April 2015, the NCDA Board announced an updated Long Term Plan.
Click here to read the seven areas the Board has decided to focus on and the steps being taken.
Career Developments Magazine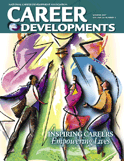 Career Developments is a themed publication offering articles that balance a broad vision with practical applications. All NCDA members receive this as a benefit of membership. Learn more about Career Developments.
SUMMER 2015: Navigating Career Uncertainty and Change
TABLE OF CONTENTS
Focus
Intentional Exploration: A Holistic Process to Navigate Career Change and Uncertainty

By Mark Franklin

Feature
NCDA Leadership Academy: Fostering Future Leaders

By Ron Cathey
Special Features
Tips from an Expert

By Carol Vecchio
Where Do We Get Great Ideas? 2015 Survey

By Career Developments Editorial Team
Columns
From the President: Navigating Uncertainty to Rediscover Purpose and Connection
By Mark Danaher
Thought Leader Insights
By Jenn Long


From the Executive Director: Navigating Career Change: NCDA's Crucial Role
By Deneen Pennington
Ethics in a Nutshell
By Meagan Kittrick
On the Web
By Melanie Reinersman
The Marketplace
By Charles Lehman
Departments
Professional Counselors & Specialists
Career Transition and Reinvention: Unlocking Potential

By Linda Sollars

School Counselors
The Boys and Girls Clubs: Navigating Career Uncertainty and Change for Our Youth
By Michael Waite

Graduate Students
Finding Meaning and Purpose in the Labyrinth of Career Uncertainty and Change

By Amanda White and Barb Valusek

Career Development Facilitator
Guiding Clients Through a Successful Career Change

By Lori Cleymans
Higher Education
Helping Staff Navigate Career Development and Change: A Model from Higher Education

By Diane Kohler