Benefits
Numerous benefits are listed below. See the right sidebar to click on links to Categories and the Join/Renew Form.
Career Development Quarterly, NCDA's journal is the premier career counseling journal, presenting the latest information in career development research and career counseling practice. CDQ is provided electronically to members.
Career Developments, the NCDA magazine, is a themed publication offering articles that balance a broad vision with practical applications. Published four times per year, each issue offers a focused article on a select theme, a feature article on a prominent NCDA event, specific content for five departments, and four regular columns.
Career Convergence, NCDA's web magazine offers new articles each month for career development practitioners working in a variety of work settings.
The Career Resource Store offers career development publications that are available to members at discounted prices. NCDA carries publications appropriate for use with adults, K-12, post-secondary, and several other specialized areas.
Global Career Development Conference that provides exciting keynoters, over 150 CE-approved program sessions, and provides opportunities for networking with many career professionals.

Professional Development Institutes

provide opportunities for continuing education at the annual conference and occasionally at state and regional locations. Other Professional Development opportunities are listed on the website, including the exclusive Leadership Academy.

Liability Insurance

is available to NCDA members whose practice is limited to career services through the ACA Insurance Trust. Call 800-347-6647 X284 for more information.

Networking Opportunities

are endless with thousands of career development professionals who are members of state divisions and NCDA.

Professional Recognition

can be achieved by applying for the Special Membership Categories . These categories include the Fellow, the Master Career Counselor (MCC), and the Master Career Development Professional (MCDP).
Sample Forms is an online repository of documents for members to review and reference when developing professional forms for use in all career development settings.
Multicultural Career Resource List. The Committee on Diversity Initiatives and Cultural Inclusion developed a comprehensive list of diversity career resources for members. This is a consolidated a list of over 150 resources, organized by population, including resources for ethnic minorities, women, individuals with disabilities, LGBT, as well as general multicultural career topics and workplace diversity. It is available to members under MyNCDA.


---
Keep your Membership benefits coming -- we need your current email address to send you the web magazine and monthly announcements-- give NCDA your updated contact information. For secured online processing, CLICK HERE
In this section

Career Developments Magazine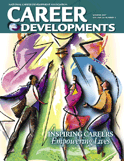 Career Developments is a themed publication offering articles that balance a broad vision with practical applications. All NCDA members receive this as a benefit of membership. Learn more about Career Developments.
NCDA Partnerships:
NCDA has been approved as a member organization of the
Automation Federation
. The Automation Foundation and NCDA are working together to convey the message to students, job seekers, returning Veterans, and those in career transition that pursuing a career in the automation profession can be rewarding, and is essential to the long-term viability of our nation's and the world's advanced manufacturing effort. Click here to read the current
AF/NCDA Workforce Position Statement
.
If your organization would like to make such an offer to NCDA or its members, please contact dpennington@ncda.org
Membership Question?
If you have a question about Membership, please contact NCDA Headquarters by calling, toll-free 1-866-FOR-NCDA. Or email Natalie Scrimsher, Membership Director, at nscrimsher@ncda.org. Your membership profile is available when you log on to MyNCDA (located in the far right side of the purple navigation bar on each webpage.