Feature Article
12/01/2013
By Mark Savickas
The year 2013 marked the centennial of the National Career Development Association. To celebrate the milestone, research was conducted to identify ten ideas that have changed the career development field. After gathering opinions from 54 NCDA members about the discourses and practices that have shaped the field, a monograph was compiled. This unique and powerful monograph taps 11 current career development leaders to explain how these core ideas continue to drive present practice and inspire new directions.
Complete Article >
View all Feature Articles
K-12
12/01/2013
By Tracy DiFilippis
The changing face of education embraces partnerships that augment traditional classroom instruction. Community organizations are providing an industry voice and perspective that help young people to connect-the-dots in a career exploration role. Three examples of volunteerism demonstrate how one region is engaging the business community in secondary education.
Complete Article >
View all K-12 articles
Post-Secondary
12/01/2013
By Debra Rowe
Students' interest in green and sustainability career pathways has never been greater. Our urgent societal challenges require an educated public willing to engage in solutions. This article provides a definition of green and sustainability jobs and explains the pervasiveness of these career opportunities. National networks and an extensive collection of job listings and career pathways resources are provided.
Complete Article >
View all Post-Secondary articles
Non-Profit
12/01/2013
By Aaron Leson
Michigan State AFL-CIO Human Resources Development, Inc. (M-HRDI) provides employment and training services to unemployed Michigan residents. Although the organization offers a variety of services to its constituents, they have found the most success by focusing on providing business services to employers and by utilizing on-the-job-training. This article provides an overview of these services.
Complete Article >
View all Non-Profit articles
Independent
12/01/2013
Sue Aiken, Associate Editor, Independent Section
In 2013 we traveled through time on a journey looking through the rear view mirror, reflecting on past challenges/ accomplishments and out through the front windshield projecting what the future holds for our profession. Here are lessons learned and questions to encourage even more learning.
Complete Article >
View all Independent articles
Organizations
12/01/2013
Book Review by Pat Nellor Wickwire
Edward Gordon's ultimate objective is to help everyone reconsider the choices we will need to make in order to successfully resolve the education-to-employment dilemma. As he writes in his book, "the time for action is today, before other skilled foreign competitors take away our future." Career development specialists are well-positioned to understand, advocate for, and implement the changes Dr. Gordon describes to prepare and develop the workforce of the future.
Complete Article >
View all Organizations articles
Government
12/01/2013
By Imants Jaunarajs
One segment of the workforce comprises of ex-offenders; what efforts have been put into place to help these individuals, and what career development facilitators should know to effectively guide the successful reentry back into the world of work. This article will serve as a general guide to those professionals who have recently began working in workforce development or private practice.
Complete Article >
View all Government articles
Special Columns
12/01/2013
Book Review by Lourdes Rivera
In order to navigate uncertainty in life, we must stop, slow down, and listen to ourselves for we are the only one's who can uncover the answers that we seek. This book can be effectively used by career development practitioners or anyone seeking to create a more meaningful and satisfying life.
Complete Article >
View all Special Columns
NCDA News
12/01/2013
By Deneen Pennington, NCDA Executive Director
To commemorate NCDA's 100th Anniversary, NCDA is launching a Second Century initiative. We invite you to play a significant role in expanding NCDA's leadership development, research, and public education and visibility in the future.
Complete Article >
View all NCDA News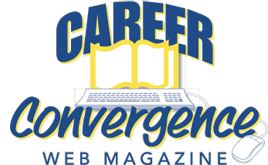 In this section
Search Archives
Sponsors
Subscriptions
NCDA's web magazine is FREE. If you are an NCDA member, you already receive a free monthly email subscription. Be sure to keep your email address up-to-date with NCDA.

If you are not an NCDA member, but wish to receive the FREE monthly email subscription, complete this form now.
Reprint Policy
All material in Career Convergence is copyrighted. Please do not reprint without permission. To request permission to reprint, email the editor at webeditor@ncda.org. Please include the name of the article, author, and where the article will be reprinted.
The following statement must be included with all reprints:
"This article originally appeared in NCDA's web magazine, Career Convergence, at www.ncda.org. Copyright National Career Development Association, (month, year). Reprinted with permission."
State career development associations do not need to contact the editor when reprinting in state newsletters or websites, but must still use the above citation.
Reprint permission will be granted to all reasonable requests on a case-by-case basis. Additional details about the copyright are listed in the Legal Notice and Disclaimer .